Nothing is a new brand in the U.S., and it is making a splash with its Nothing Phone 2. This unique smartphone stands out from the competition with its unconventional design. It seems poised to challenge established players like Apple, Google, OnePlus, and Samsung, and has the potential to attract a significant share of the market. If you're considering purchasing this extraordinary device, I have plenty of positive news to share about its impressive features and capabilities.
Nothing Phone 2 Specifications
Nothing Phone 2 Overview
| Feature | Discription |
| --- | --- |
| Brand name | Nothing |
| Display | 6.7-inch AMOLED display, 1080 x 2412 pixels, 120Hz refresh rate |
| Color | White, Black |
| Design | Transparent back with LED lights, glass and aluminum construction |
| Processor | Qualcomm Snapdragon 8+ Gen 1 |
| RAM | 8GB, 12GB |
| Storage | 128GB, 256GB, 512GB |
| Battery | 5000mAh |
| Charger | 45W fast charging |
| Price | $599 (8GB/128GB), $699 (12GB/256GB), $799 (12GB/512GB) |
| Release Date | July 17, 2023 |
Nothing Phone 2
Nothing Phone 2: Design and Colours
The Nothing Phone 2 is a smartphone that is designed to stand out from the crowd. The phone features a minimalist design with a transparent back that reveals the phone's internal components. The back of the phone is also dotted with a series of LED lights that can be used to indicate notifications, battery level, and more.
The Nothing Phone 2 is made from a combination of glass and aluminum. The glass back is Gorilla Glass 5, which is known for its durability. The aluminum frame is anodized, which gives it a sleek and modern look.
The Nothing Phone 2 is available in two colors: white and black. The white version has a transparent back that reveals the phone's internal components, while the black version has a solid black back.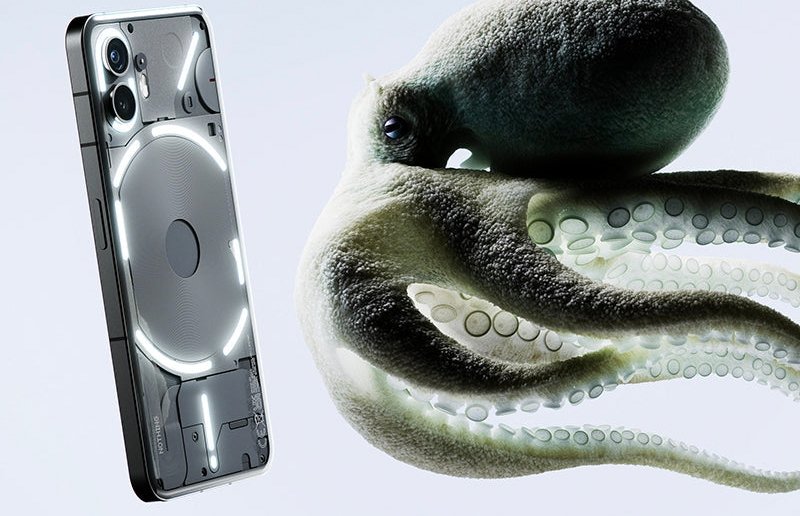 The Nothing Phone 2 is a well-designed smartphone that is sure to turn heads. The phone's minimalist design is both stylish and functional, and the LED lights add a touch of personality. If you are looking for a smartphone that is both unique and stylish, the Nothing Phone 2 is a great option.
Key Features of Nothing Phone 2:
Transparent back with LED lights
Glass and aluminum construction
Two color options: white and black
Minimalist design
Stylish and functional
Unique and stylish
If you are looking for a smartphone with a unique and stylish design, the Nothing Phone 2 is a great option. The phone's transparent back and LED lights add a touch of personality, while the minimalist design is both stylish and functional.
Nothing Phone 2: Display
The Nothing Phone 2 boasts a 6.7-inch OLED screen with a dynamic 1Hz to 120Hz refresh rate, providing a vibrant and engaging display experience. The default HDR setting and "Alive" color option make the colors highly saturated, resulting in a screen that pops when watching videos. In comparison to the iPhone 14 Pro, the Nothing Phone 2's colors are more intense, though some may find them too eye-catching. However, even when switching to the "Standard" color mode, the display remains colorful.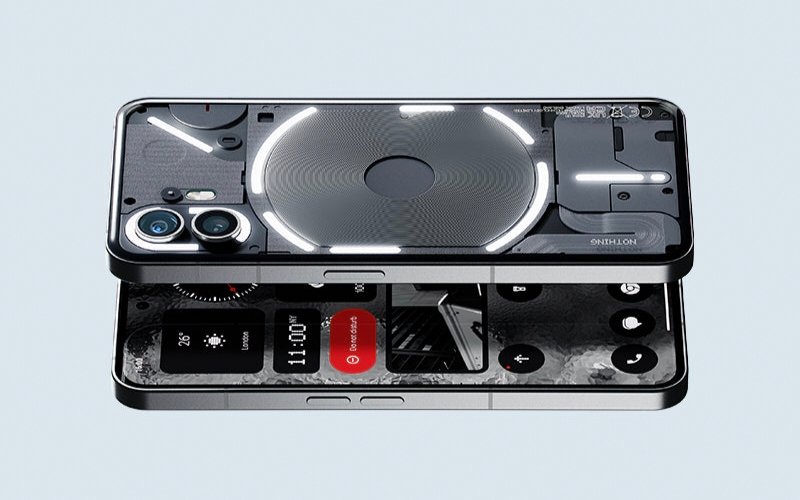 The screen's brightness is commendable, and the ambient light sensor ensures visibility in various lighting conditions, including sunlight. The dual speakers deliver powerful sound but lack in bass. If you appreciate eye-catching colors and loud audio, the Nothing Phone 2 will impress you.
While some may question the use of the Qualcomm Snapdragon 8+ Gen 1 processor and its impact on the phone's flagship status, such concerns should be dismissed. The Snapdragon 8+ Gen 1 is a remarkable blend of performance and efficiency, ensuring smooth performance whether you're gaming or using various apps. It keeps the device slick and responsive, without overheating. While the Snapdragon 8 Gen 2 is also impressive, the day-to-day difference between the two processors is minimal.
In conclusion, don't get too caught up in specs and numbers. The Nothing Phone 2 is a powerful and capable device with an outstanding performance that you can enjoy without overanalyzing technicalities. Embrace its power and enjoy the smartphone for what it offers.
Nothing Phone 2: Camera
The hardware changes in the Nothing Phone 2's camera are not substantial compared to its predecessor, the Nothing Phone 1. The new model features two 50-megapixel cameras: a 50MP Sony IMX890 with optical and electronic stabilization and a 50MP Samsung JN1 114-degree wide-angle with EIS. The selfie camera has been upgraded to 32MP. However, the real improvements come from the software enhancements, which have positively impacted the photo quality.
The pictures captured with the Nothing Phone 2 are vibrant, lively, and rich in color, striking a good balance without going overboard on HDR and saturation like some other smartphones, such as the Galaxy A54. While they may not possess the sheer natural brilliance of the Pixel 7's camera, they offer a more enjoyable and fun experience. These photos are social media-ready and often require little to no editing before sharing. The main and wide-angle cameras deliver consistent results, and the 2x zoom mode produces decent photos in the absence of a dedicated telephoto lens.
However, the camera's performance falters in low-light conditions. In such situations, there is a notable lack of detail and a significant amount of noise, even in partial light. The images deteriorate further in complete darkness. Unfortunately, this puts the Nothing Phone 2 behind its competitors, as other smartphones in the same price range capture better photos in low-light scenarios. Nevertheless, during daylight, the camera performs admirably and represents an improvement over the Nothing Phone 1. If you primarily use your phone for photography during the day, the Nothing Phone 2's camera will certainly meet your expectations and provide pleasing results.
Nothing Phone 2: Software and Performance
The most controversial aspect of Nothing OS 2.0 is undoubtedly the Nothing icon pack, which globally changes the appearance of each app icon on the phone to a monochrome style. While the icons retain their original design, they lose color and size and can be arranged within circular or square folders. Nothing's widgets also follow the black-and-white theme, displaying the time, weather, Quick Settings shortcuts, and controls for Nothing earbuds. Even the default wallpapers in Nothing OS 2.0 are abstract monochrome images.
Fully embracing the monochrome theme results in an on-brand experience but can also be perceived as excessively dull. Navigating the phone becomes slower due to the unfamiliar app icon appearances. The lock screen adapts well to the monochrome style, but the home screen can feel somewhat depressing. While some users may appreciate the entirely monochrome theme, others may prefer the bright and colorful style typically found in standard Android.
Fortunately, the Nothing Phone 2 allows users to switch to the standard Android theme if the monochrome look does not suit their taste. This flexibility is one of the strengths of Nothing OS 2.0, as it avoids forcing unwanted features or apps upon users, unlike some concerns raised after the launch of the Nothing Phone 1. Exploring the new features reveals some impressive additions, such as the ability to place Quick Settings shortcuts on the lock screen, which proves to be highly useful during day-to-day tasks.
Beyond the design aspect, Nothing OS 2.0 delivers a fast, reliable, and enjoyable user experience, comparable to stock Android on Pixel phones. Connectivity is stable, with solid performance on 4G/5G, Wi-Fi, and Bluetooth. Even during intensive use, the phone shows no signs of excessive heat buildup.
Regarding software updates, Nothing promises three major Android version updates and four years of security updates, with updates arriving every two months. While Samsung and OnePlus offer longer software update commitments, Nothing's promise aligns with Google's commitment and ensures a reasonable period of support.
In conclusion, it is recommended to choose a phone from a manufacturer that provides regular and long-term software updates for enhanced longevity. As for whether to keep the Nothing Phone 2 for longer than three years, it ultimately depends on individual preferences and needs, so users should consider this before concerning themselves solely with the "only" three-year update commitment.
Nothing Phone 2: Battery & Charging Speed
Inside the Nothing Phone 2, you'll find a 4,700mAh battery, which is slightly smaller than some other large smartphones on the market. However, thanks to the highly efficient Snapdragon 8+ Gen 1 processor, the battery life is impressive. During regular use, the phone shows excellent endurance.
For instance, a 30-minute session of Asphalt 9: Legends only consumes around 7% of the battery, while watching a 30-minute YouTube video at 1440p with full brightness results in only a small decrease in battery percentage. With a mix of casual gaming, app usage, calls, and camera usage, three to four hours of screen time typically use up around 40% to 50% of the battery. Turning off the phone overnight can extend battery life to nearly two days, as seen in one user's experience when connected to a smartwatch.
For more intensive users who engage in heavier gaming and longer screen times of around five hours, the battery may last a day and a half, or possibly just a single day. In a day that involved extensive usage, the Nothing Phone 2 still managed to comfortably last until 10:00 p.m. with 7% battery remaining.
The Nothing Phone 2 supports wired 45W PPS charging, similar to the Samsung Galaxy S23 Ultra and Galaxy S23 Plus. Using the included transparent USB Type-C to Type-C cable, the phone can be charged from 2% to 64% in just 30 minutes and fully charged in approximately 58 minutes. Additionally, the phone supports 15W Qi wireless charging, taking about 130 minutes to reach a full charge.
The device also offers a convenient 5W reverse charging feature, which allows you to charge other devices like Nothing Ear 2, Samsung Galaxy Buds Live, or Apple AirPods. When using reverse charging, the Glyph lights flash, and an audible alert confirms when the charging process has started, making it easy to know when the feature is active. Overall, the Nothing Phone 2 offers impressive battery performance and a variety of charging options.
Nothing Phone 2: Price & Availability
The most affordable version of the Nothing Phone 2 comes with 8GB of RAM and 128GB of storage, priced at $599 or 579 British pounds. This places it in direct competition with the Google Pixel 7 and the base model of the OnePlus 11, both of which have similar starting prices. Notably, the Nothing Phone 2 offers $100 less than the cheapest OnePlus 11, making it an attractive option among its competitors. It represents a step up in price and specifications from the $450 Samsung Galaxy A54, while still being $200 less expensive than flagship-level smartphones like the Samsung Galaxy S23, Motorola Edge Plus (2023), and Apple iPhone 14.
The Nothing Phone 2 offers two higher-spec models: the $699 variant with 12GB of RAM and 256GB of storage, and the top-of-the-line $799 model with 12GB of RAM and 512GB of storage. All versions will be available for purchase on Nothing's online store starting from July 17. Customers can choose between a grey version or a white model.
While calling the Nothing Phone 2 an absolute bargain may be a stretch, it undeniably provides significant value for its price. Despite not featuring the very latest processor, the Snapdragon 8+ Gen 1 is considered one of Qualcomm's best chips in terms of performance and efficiency, making it a reliable choice. Moreover, the phone's unique and beautifully crafted design adds to its appeal. The Nothing Phone 2 excels in combining functionality, desirability, and style, making it an outstanding option in the U.S. smartphone market for its $600 price point.
Also Read: Apple Vision Pro Preview: Highlight its Key Features
Also Check: Apple iPhone 15 Pro Max: The Next Level Of Innovation
Nothing Phone 2: Explore More
FAQs
Nothing Phone 1 Vs Nothing Phone 2: What's New
| Feature | Nothing Phone 1 | Nothing Phone 2 |
| --- | --- | --- |
| Display | 6.55-inch OLED display, 1080 x 2400 pixels, 90Hz refresh rate | 6.7-inch AMOLED display, 1080 x 2412 pixels, 120Hz refresh rate |
| Processor | Qualcomm Snapdragon 778G+ | Qualcomm Snapdragon 8+ Gen 1 |
| RAM | 8GB | 8GB, 12GB |
| Storage | 128GB, 256GB | 128GB, 256GB, 512GB |
| Battery | 4500mAh | 5000mAh |
| Charger | 33W fast charging | 45W fast charging |
| Price in US | $399 (8GB/128GB), $499 (8GB/256GB) | $599 (8GB/128GB), $699 (12GB/256GB), $799 (12GB/512GB) |
| Release Date in US | August 2021 | July 17, 2023 |